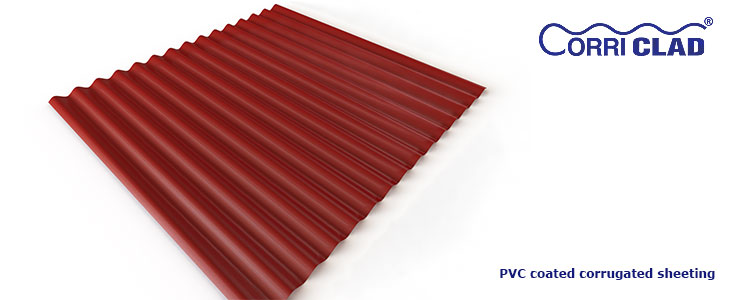 Overview
Corriclad is plastisol coated sinusoidal sheeting available in a range of colours.

Applications
Roof and wall applications where the environmental conditions do not pose a significant corrosion risk to metal sheeting.
Colours
Corriclad is available in a choice of colours, the specific colour range available at any particular time reflects market demand. The following list is for guidance only, the full list of available colours and finishes are available on request.

| | | | |
| --- | --- | --- | --- |
| Goosewing Grey | Olive Green | Heritage Green | Mushroom |
|  Merlin Grey |  Van Dyke Brown |  Black |  Juniper Green |
|  White |  Poppy Red |  Terracotta | |
Available Lengths
Made to order in lengths: 0.1 – 12 m.
Thickness
Corriclad® is available in 0.50 mm and 0.70 mm
Material
Substrate: S220GD+ZA255 to EN 10346:2009 or S220GD+Z275 to EN 10346:2009 depending on availability
Coating:
Underside: 12um Primer/Polyester
Weather side: 200um Primer/Organic Coating
DPC Barrier
To prevent deterioration caused by contact with wet, green or treated timber a DPC barrier must separate CorriClad when fixed to timber purlins.
Packing and delivery
All deliveries, unless indicated otherwise, are by road transport with packaging to suit land delivery. As a general guide pack sizes are limited to two tonnes and the entire pack is wrapped in polythene. Offloading is the responsibility of the client.
Storage & Handling
Water ingress between sheets will have a negative effect on the performance of the sheet. Wrapping is only a temporary protection for transport purposes and is not suitable for outdoor storage.
Quality
Overview
The complete range of Duggan Profiles sinusoidal sheeting can be curved or cocktailed subject to the manufacturing limitations that are described below. 0.7 mm material is recommended as it more easily retains the curved profile.
Available Lengths
The total length of curved or cocktailed sheets should be limited to 4.876 m (16′).
Requirements for manufacture of Curved Sheets
In order to curve sheeting the curved length and rise at mid span is required as indicated in the diagram below.

Stock
Curved ridges are available ex stock in 0.55 mm Corrifarm 14/3 & 10/3 Slate Grey & Juniper Green.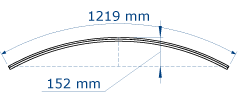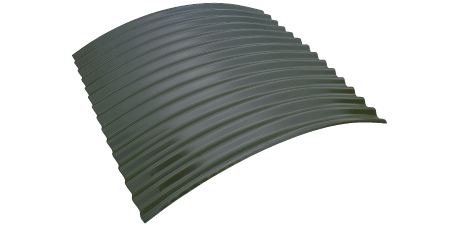 Requirements for manufacture of Cocktailed Sheets
Cocktailed sheets are made to order. The standard cocktail has a 6" rise over 18" cocktailed length. In order to manufacture the cocktail length and rise is required as indicated in the diagram below. Non standard cocktailed options are only available in limited cases due to the complexities of manufacture. Check that the required option can be produced before ordering.