Product Overview
HiLine gutters are made to individual project requirements with options available for both materials and dimensions.
Profile
The profile must be folded to suit the roof pitch. The standard girth is 625 mm with a base width of 165 mm but other options are also available as shown below.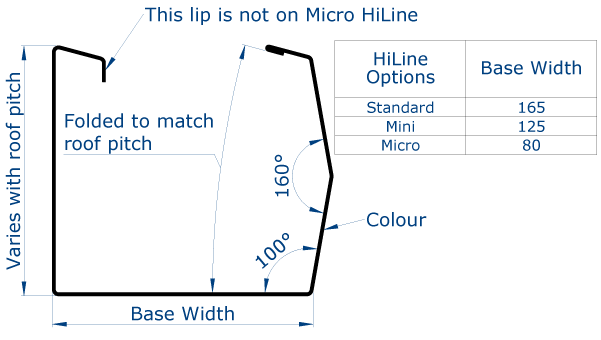 Available Lengths
Gutters are typically supplied in 6 m lengths but can be made up to 8 m long.
Thickness
The standard thickness is 0.7 mm but some materials may not be available in this size in which case the closest alternative is used.
Colour
Colours are generally available to match our sheeting. The following list is for guidance only, the full list of available colours and finishes are available on request.
| | | | |
| --- | --- | --- | --- |
| Goosewing Grey | Olive Green | Heritage Green | Mushroom |
| Merlin Grey | Van Dyke Brown | Black | White |
| Terracotta | Poppy Red | Juniper Green | Slate Grey |
Outlets
Plastic outlets are available in either 100 mm or 75 mm. They are supplied loose for fitting on site.
Stopends
Stopends are custom made to match the profile and colour of the gutter.
HiLine Angles
These can be factory fabricated to suit the individual application in question.
Mounting Brackets
600 mm long folded support straps are made to fit the corrugation of the sheeting. They are typically required at 1 m centres.
Ordering Information
HiLine gutters and accessories should be ordered using the Duggan Profiles HiLine Gutter Order Form.
Packing and delivery
HiLine Gutters are bundled, polythene wrapped and strapped for road transport to site. Care must be taken to avoid damage to units during offloading and handling on site. Offloading is the responsibility of the client.