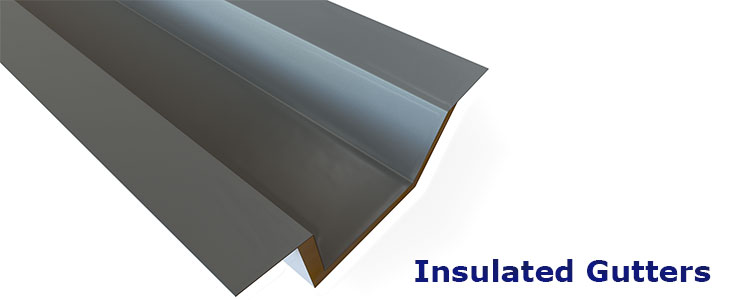 Product Overview
Membrane coated Insulated Gutters are a single component system comprising a PVC membrane lined weather skin with PIR rigid insulation and a steel internal liner sheet. They are made to individual project requirements with options available on both materials specifications and component dimensions.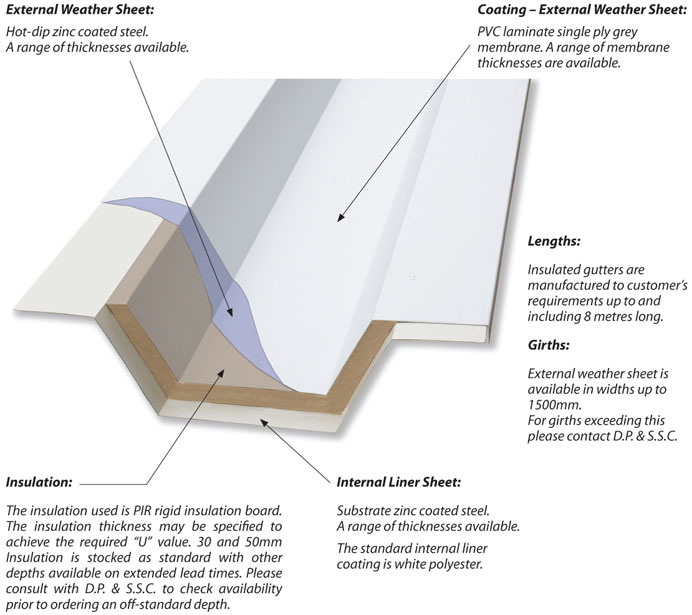 Profile
The gutter cross section is manufactured to project requirements and is limited only by machining and material limitations. The maximum girth is 1500 mm.
Available Lengths
Lengths available to customer requirements up to 8 m.
Insulation
PIR insulation is used as standard.
Insulation Thickness
Common insulation thicknesses are 30 mm and 50 mm but others can be provided on request.
Material
Weather side: 0.8 mm steel with 0.8 mm PVC Membrane
Internal Liner: 0.5 mm steel with 25um White polyester coating
Other material options may be supplied subject to availability.
Gutter Markings
An ID Mark is applied to each gutter during fabrication. These ID Marks can be provided on a site layout drawing available to the customer on request.
Ordering Information
The Duggan Profiles Insulated Gutter Order Form provides an efficient means of ordering. We can also accept details in CAD format.
Packing and delivery
Insulated Gutters are typically bundled in bales of 4-6 units, polythene wrapped and strapped for road transport to site. Care must be taken to avoid damage to units during offloading and handling on site.
Membrane Coated Insulated Gutter Accessories
Composition:
Duggan Profiles & S.S.C. Insulated Gutters comprise an external membrane lined weather skin, PIR rigid insulation and an internal liner skin. The specification of each can be configured to suit the individual design requirements. The inside and outside gutter skins are bonded to the insulation and the flanges where the surfaces come together are joined by clinching or riveting. For applications requiring thermal breaks please consult with D.P. & S.S.C.
Joints:
Each gutter includes an overlap which forms a lapped joint with the abutting gutter section. Stainless steel rivets, compatible sealant and a heat welded membrane strip secure and seal the joint.
Welding Strip:
1.5mm thick x 150mm wide grey PVC, supplied if ordered, in rolls. The standard joint is made on site by heat welding 50mm to weather sheet of each gutter. Customers should specify if Welding Strip is required when ordering gutters.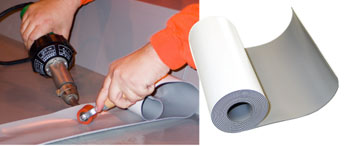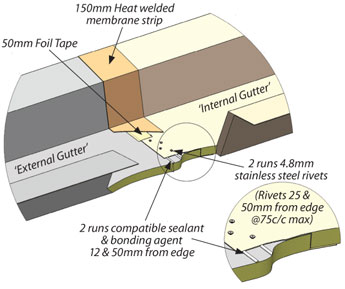 Sealants:
D.P. & S.S.C. recommends the use of Soudal Soudaseal 240FC or equivalent.
Fixings:
4.8mm Stainless Steel, length dependant on material thicknesses being fixed and as per manufacturer recommendations.
Supports:
D.P. & S.S.C. Insulated gutters are not structural members and as such require support from the steel frame. Where continuous support is not available off adjacent steelwork Gutter Straps, 50 x 6mm flat bar folded to gutter profile, may be used at 1500mm centres.