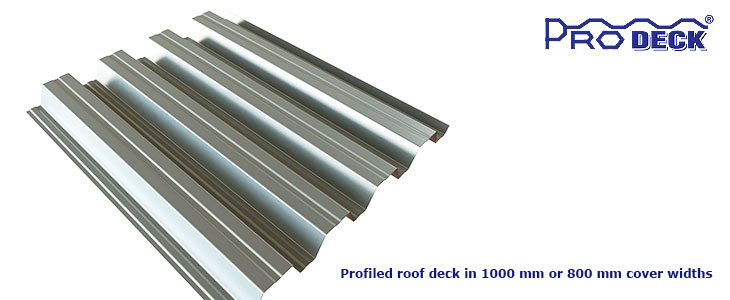 Product Range
Prodeck is a profiled steel roof deck manufactured in a 1000 mm or 800 mm cover width.
ProDeck 1000/32

ProDeck 800/66

Colour
Prodeck is supplied galvanised as standard but may be supplied with a White Polyester finish in 0.7 mm only.
Available Lengths
Standard lengths: 1 – 15 m
Non-standard lengths:
Additional costs may apply for non-standard lengths.
Thickness

Cover Width (mm)
1000
800
Thickness (mm)
0.7*
0.75
0.9
1.2
0.7*
0.75
0.9
1.2
Weight (kg/lm)
6.704
7.183
8.619
11.492
6.704
7.183
8.619
11.492
* 0.7 mm available in White Polyester only
Material
S280GD+Z275 to EN 10346:2009
DPC Barrier
As a general precaution, to prevent deterioration caused by contact with wet, green or treated timber, a DPC barrier must separate roof decking material if fixed to timber purlins.
Packing and delivery
All deliveries, unless indicated otherwise, are by road transport with packaging to suit land delivery. As a general guide pack sizes are limited to two tonnes and the entire pack is wrapped in polythene. Offloading is the responsibility of the client.
Storage & Handling
Water ingress between sheets will have a negative effect on the performance of the sheet. Wrapping is only a temporary protection for transport purposes and is not suitable for outdoor storage.
Quality
Important notes
The following points should be borne in mind when using decking and these load tables:
1. Calculations according to Eurocode, however a fixings check is also required.
2. To comply with Eurocodes, decks must be end lapped, not butted, at the end of the run the deck must
extend 40mm past support.
Click on the ProDeck Product to view Load Table