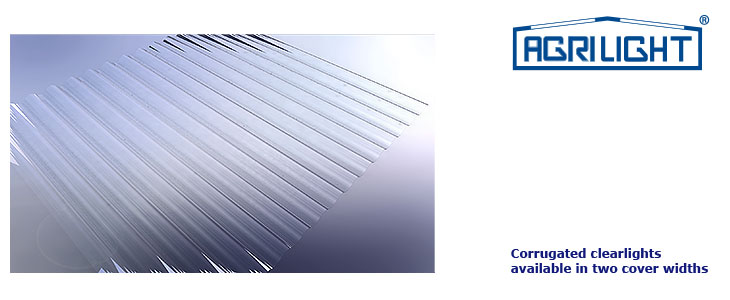 Overview
Agrilight is a polycarbonate clearlight available in two different cover widths to match our 10/3 and 14/3 sheeting.
| | |
| --- | --- |
| AgriLight 10/3 | |
| AgriLight 14/3 | |
Application
Agrilight is a through fixed clearlight which may be used in both roof and wall applications.
Available Lengths
Standard lengths available ex stock (m): 1.829, 2.134, 2.438, 2.743, 3.048, 3.353 and 6.096.
Thickness: 1.3 mm
UV Protection
Agrilight sheets have a UV barrier on the top surface.
Chemical Resistance
There should be no aggressive environmental conditions or chemicals where Agrilight is used. Contact with solvents and alkali cleaners should be avoided.
Condensation
Condensation may form on the underside of a roof made from any thin sheeting material. To minimise condensation within an enclosed structure, sources of moisture should be minimised and good ventilation should be provided.
Safety
Agrilight® is a glazing material and should therefore be handled with due care at all times. Never walk on Agrilight® sheets.
Isolation from plastisol coating
Plastisol coating on roofing sheets is aggressive to polycarbonate. It is essential that the lapped area of metal sheet at either side of and at the lower end of the Agrilight has an aluminium foil adhesive tape applied to completely isolate the polycarbonate from the plastisol coated metal.
Purlin centres
Where purlin centres exceed 1800mm or are less than 1000mm guidance should be obtained from Duggan Profiles.
Fixing to treated timber
When fixing to treated timber purlins an EPDM barrier must be used to prevent any reaction between the treatment and the Agrilight sheets.
Non fragility classification
Agrilight satisfies the requirements of the Health & Safety Authority "Code of Practice for Safety in Roofwork" 2005 for Class B non-fragility subject to correct installation and maintenance. Full details are available from Duggan Profiles.
Quality & Durability
Agrilight sheets are manufactured from the highest quality materials, using state of the art production equipment to rigorous quality control standards, complying with ISO9001 quality standard, ensuring long term reliability and service life.
Storage
Storage should be indoors as far as possible. Where Agrilight is stored outdoors it must be protected from the sun, wind and water to prevent temperature build-up that could lead to distortion and degradation. Water between the sheets accentuates these processes.