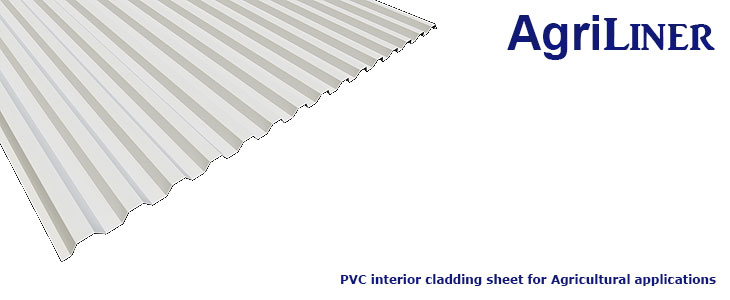 Overview
AgriLiner is a corrugated opaque rigid PVC interior cladding sheet which can be used in a wide variety of internal agricultural lining applications.
Profile

Colour: White
Available Lengths
Standard lengths available ex stock 4.5 m, 5 m, 6 m and 7.5 m.
Tolerances
Standard Sheet Size
Tolerance
Width
1140 mm
+/-5 mm
Length
Up to 5 m
-0,+10 mm
Over 5 m
-0,+15 mm
Thickness
1.2 mm
1.14 mm-1.26 mm
Weight
2.20 kg/m2 (1.2 mm nominal thickness)
Service Temperature
AgriLiner can be installed in a diverse range of interior cladding applications, with varying temperatures. The material's mechanical performance is known to remain stable in prolonged service in temperatures ranging from -20 to +60 °C.
Corrosion
AgriLiner may be used in contact with other traditional building materials. It is resistant to most chemicals however contact with solvents such as creosote or similar wood preservatives must be avoided. It is unaffected by farm effluents.
Biological
AgriLiner does not support the growth of moss, algae or fungus.
Installation
Fasteners should be located in the valley with at least six fixings at each purlin. The minimum cold curving radius is 4 m. During installation adequate allowance must be made for thermal movement. Clearance must be allowed in the holes drilled for fixing and sheet lengths have to be limited so that there is not excessive movement at the end laps. Sealing of laps can be achieved using a silicone based sealant or foam cell tape.
Maintenance
The general condition of AgriLiner and the security of fixings and sealant should be checked periodically as part of the overall maintenance of the structure into which they are incorporated. The high gloss surface retains little dirt but a mild detergent will remove any dirt that does adhere. For rapid cleaning high pressure washing can be used, with the nozzle held at a shallow angle to the sheet surface. Do not apply nozzle into laps between sheets.