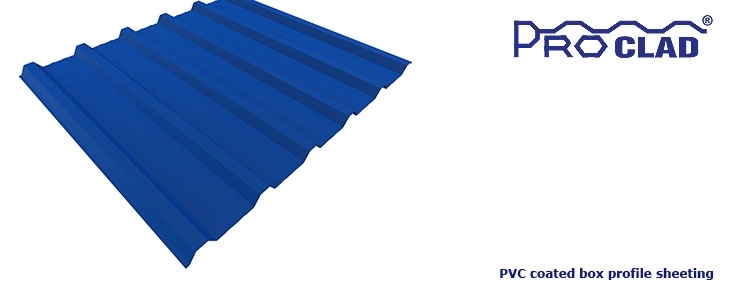 Product Range
PVC coated box profile sheeting available in 1000 cover width. Proclad® is also available in reverse profile.

Applications
Roof and wall applications where the environmental conditions do not pose a significant corrosion risk to metal sheeting.
Colours
Proclad is available in a choice of colours, the specific colour range available at any particular time reflects market demand. The following list is for guidance only, the full list of available colours and finishes are available on request.

| | | | |
| --- | --- | --- | --- |
| Goosewing Grey | Olive Green | Heritage Green | Mushroom |
| Merlin Grey | Van Dyke Brown | Black | White |
| Terracotta | Poppy Red | Juniper Green | |
Available Lengths
Standard lengths: 1 – 15 m
Non-standard lengths:
Additional costs may apply for non-standard lengths.
Thickness
Proclad is available in 0.50 mm and 0.70 mm.
Material
Substrate:S220GD+ZA255 to EN 10346:2009 or S220GD+Z275 to EN 10346:2009 depending on availability
Coating: Underside: 12um Primer/Polyester Weather side: 200um Primer/Organic Coating
DPC Barrier
To prevent deterioration caused by contact with wet, green or treated timber a DPC barrier must separate roof cladding material when fixed to timber purlins.
Packing and delivery
All deliveries, unless indicated otherwise, are by road transport with packaging to suit land delivery. As a general guide pack sizes are limited to two tonnes and the entire pack is wrapped in polythene. Offloading is the responsibility of the client.
Storage & Handling
Water ingress between sheets will have a negative effect on the performance of the sheet. Wrapping is only a temporary protection for transport purposes and is not suitable for outdoor storage.
Quality
Overview
Cranked ridge and eaves can be produced from Profarm, Procolor and Proclad. Both the 1000 and 800mm cover widths can be cranked. Typical profiles are illustrated below.
Cranked Eaves
Cranked Ridge

The minimum values indicated above are for indicative purposes only and in practice will be determined by factors such as geometry and material thickness. Check with us before detailing/ordering for job specific information.
Stocked Cranks
Cranked Ridges to suit a 15° roof pitch are available ex stock as follows: